Online Dating Websites Reviews By me Reality =))
BADOO.COM
REALLY DEPRESSING AND HORRIBLE WEBSITE. IMPOSSIBLE TO FIND A PERSON WHO WANTS TO TALK. MONEY HUNGRY OWNERS. AND REALLY LOW QUALITY POOR PROFILES. I JOINED BADOO IN 2008 FOR THE FIRST TIME. WHEN I WAS JUST 18. YES I WAS LOOKING FOR LOVE EVEN BACK THEN. THEY HAVE TONS OF FAKE PROFILES. IF YOU MESSAGE SOMEONE ESPECIALLY A WOMAN. THEY WILL NOT REPLY. OUT OF 500 WOMEN MAYBE 10 WILL REPLY AND IT'S ROBOTS MOST LIKELY. IT LOOKS LIKE ALL THE WOMAN ALREADY IN THE RELATIONSHIP. THEY DON'T KNOW WHAT LOYALTY IS AND THEY WANT YOU TO TAKE CARE OF THEIR CHILDREN. YOU CAN ONLY SEND 5 MESSAGES PER DAY. THEN THEY WANT YOU TO PAY MONEY. HUGE SCAM AVOID AT ALL COSTS.
OKCUPID.COM
ANOTHER PIECE OF CRAP MADE BY AMERICANS. OWNERS OF THIS WEBSITE ARE CLOWNS. THEY LIVE IN THE FANTASY WORLD. ALMOST 99.99% OF PROFILES ARE SCAMS. YOU'LL GET BANNED WITHOUT ANY REASON. IF YOU DON'T PAY FOR THE MEMBERSHIP. PEOPLE DISHONEST THEY THINK IT'S OKAY TO HAVE HUNDREDS OF PARTNERS CHEAT AND OPEN RELATIONSHIP IS A NORMAL THING THERE. PEOPLE EXTREMELY SHY AND ANTISOCIAL THERE. IT MAKES REALLY DIFFICULT TO TALK WITH THEM. WOMEN EXTREMELY RUDE THERE. EVEN IF YOU INTRODUCE YOURSELF TO THEM. THEY WILL BLOCK YOU OR SAY SOMETHING NASTY BACK TO YOU. SOMETHING IS REALLY WRONG WITH THIS WEBSITE. I WASTED ABOUT £50 SO I CAN GET POPULAR THERE. BECAUSE I WANTED TO GET SOME MESSAGES FROM WOMEN. WELL WAS WASTE OF MONEY. IT WAS STUPID IDEA TO DO THAT.
JAUMO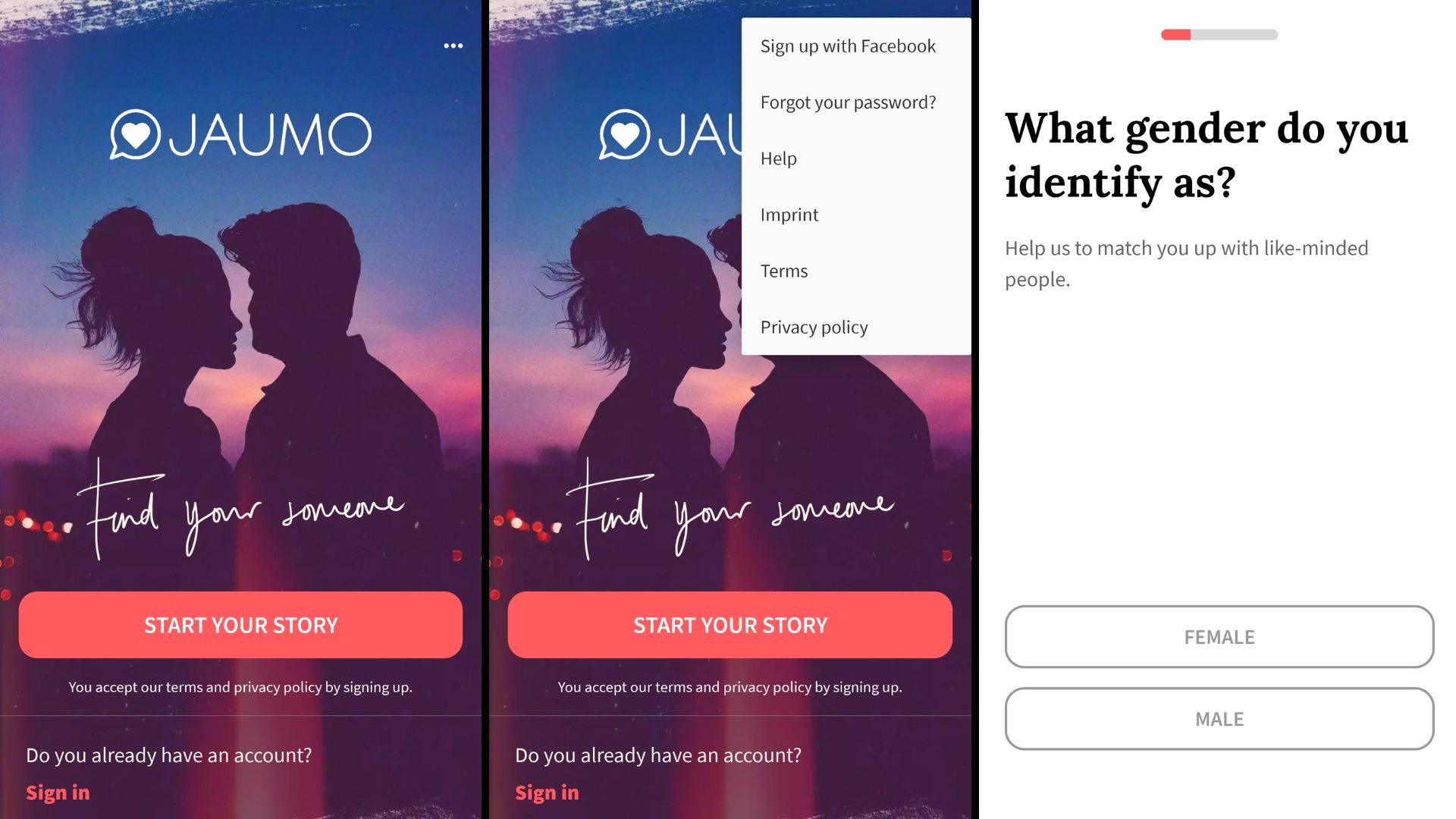 MOBILE APP CALLED JAUMO. IT'S VERY SIMILAR TO BADOO.COM. HUGE AMOUNT OF SCAMMERS USE THIS. SOME PEOPLE JUST ASK YOU FOR MONEY. SOME PEOPLE ARE LEGIT. I FOUND SOME NICE WOMEN THERE. THE ONLY PROBLEM WAS THEY THOUSAND MILES AWAY FROM ME. VERY SAD. IF YOU WILLING TO TRAVEL OVERSEAS. I THINK YOU HAVE A GOOD CHANCE FINDING YOUR TRUE PARTNER. LOOKS LIKE MANY PROFILES FROM BADOO MOVED THERE. SO IT'S ALWAYS THE SAME PEOPLE. I RECEIVED LOTS OF SPAM LINKS. I CAN'T RECOMMEND THIS APPLICATION. IT SUCKS BIG TIME.
WHEN NOTHING WORKS YOUR LAST OPTION IS FACEBOOK SOCIAL MEDIA.  EVERYONE KNOWS FACEBOOK. WELL THE SAD TRUTH ABOUT FACEBOOK IS IT'S OVERCROWDED. INSANE PRIVACY INVASION FROM YOUR ID DOCUMENT AND PASSPORT REQUESTS AND TELEPHONE NUMBER VERIFICATION. FACEBOOK GOT SOME GROUPS WHERE PEOPLE WANT TO FIND OTHERS. IF YOU JOIN RANDOM DATING GROUPS. PREPARE FOR SCAMS AND FAKE REQUESTS. PEOPLE WILL START ADDING YOU ON FACEBOOK FROM GHANA AFRICA, PHILIPPINES, AND OTHER BAD KNOWN PLACES. I RECEIVED TONS OF FRIEND REQUESTS. BUT I REALISED IT WAS JUST SCAMMERS. WITH MASSIVE LINK SPAMMERS AND TRYING TO HACK ME ALL THE TIME. STEAL ALL MY DATA AND SO ON. FACEBOOK IS REALLY GARBAGE PLACE TO BE. YOU'LL BECOME GARBAGE YOURSELF IF YOU JOIN THIS WEBSITE.  I THINK ONLINE DATING IS A BIG MIRAGE AND IT RARELY WORKS.
PLEASE NOTE: I LISTED SMALL AMOUNT OF DATING WEBSITES. I'VE TRIED PLENTY OF WEBSITES. LET ME TELL YOU SOMETHING THEY ALL THE SAME. IT WILL MAKE YOU ANGRY UPSET AND YOU'LL FEEL LIKE ARE WORTHLESS PERSON. FIRST OF ALL ASK YOURSELF IF YOU REALLY WANT TO DATE PEOPLE FROM THE INTERNET. WOMEN ALWAYS GET TONS ATTENTION FROM MEN. SO YOU HAVE SMALL CHANCES. WHEN YOU GET TOGETHER SHE MIGHT STILL BE USING THEM BECAUSE SHE'LL GET ADDICTED TO THEM. BEHIND YOUR BACK. OTHER THING THEY PROBABLY HAD LOTS OF PARTNERS IN THE PAST. MAYBE PARTNERS LEFT THEM BECAUSE OF THAT. OTHER THING IT'S POSSIBLE THEY ALREADY INFECTED WITH ALL KINDS OF SEXUAL DISEASES. MAYBE THEY WANT ALL YOUR MONEY AND NOTHING ELSE. WORST CASE THEY ARE KILLERS.